We are glad you're joining us for our service today. If you are new, or would like to connect with us, click on the button below to fill out an online connection card!
If you are interested in participating in the Christmas Card Exchange - like in past years - please put your family's name on the slips of paper in the lobby, and place them in the provided box. The names in the provided box will be included in giving and receiving. We hope everyone will participate in sharing a bit of love this Christmas Season!

Card delivery will be December 5 - 19. Cards will be 10¢ and packages will be 50¢. All "postage" collected will be given towards the Lottie Moon Christmas Offering.

WHEN: December 5 - 19
All ladies are invited to attend our annual Recipe Swap Party. Please bring 3 dozen of your favorite homemade cookies along with the recipe they are made from.

Also, for the gift exchange, we will be doing oven mitts, pot holders, towel sets, etc. (No more than $10 value)

WHEN: Tuesday, November 30 | 5:30p-7:30p
WHERE: Calvary Baptist Church Fellowship Hall


We invite all of our senior adults to join us for a time of fellowship at our monthly dinner. If you need a ride, or know someone that needs a ride, please contact Steve Legge at steve.legge@calvarybcp.com

WHEN: Friday, December 9th | 5:30p
WHERE: Calvary Baptist Church Fellowship Hall
The Shaw Band is a family band comprising of 8 siblings; Holly, Macy, Justus, Elley, Amy, Lilly, Peter, and Daniel. The family has been playing music together their whole lives, but began their professional journey in 2015.

The sibling group (formerly Citizens of Glory) will be leading worship at here at Calvary for our Sunday Morning Worship. You will not want to miss this wonderful time of corporate worship with the Shaw Band. The service is open to the public!

WHEN: Sunday, December 5th | 10:45a
WHERE: Calvary Baptist Church Worship Center
If are you currently - or are considering - playing an instrument or singing, you are invited to join us for our practice! We would love to have you join our Worship Team. We hold practices at 6:30p on the 2nd & 4th Mondays each month.

WHEN: 2nd & 4th Mondays each month // 6:30p
WHERE: Calvary Baptist Church // Worship Center
We would love to have you serve on our Media Team! We are looking for people that are interested in serving in our tech booth for Sunday Services. We are currently looking to put people in the following positions:

Sound Tech
ProPresenter Tech
Lighting Tech
Video/Camera Tech

If you are interested in joining our team, please contact us at media@calvarybcp.com
Be Strong Men's Conference
"The world around us has tried (since the beginning of time) to define what manhood should look like—but they fall short every time. The Bible defines what real Biblical manhood is. The role of a "godly man" is among the highest callings you will ever receive. Never allow the culture to twist your perspective of God's calling."

If you would like to attend Be Strong, please contact our church office.

WHEN: Sept 24 - 26
COST: $155 due August 15th
Our 2021-2022 AWANA program has begun! We have transitioned back to meeting every week. Our AWANA program is for children ages 4 years old to 5th grade. We serve dinner - at no cost - starting at 5:00p, with opening ceremonies beginning at 5:40p. Pickup is at 7:20p, following the closing ceremony.

WHEN: Every Wednesday // 5:00p - 7:20p
WHERE: Calvary Baptist Church


United Youth - Fall Semester
We have had hundreds of students attend United to build relationships, worship, and most importantly, hear the Gospel. All glory be to God alone for the work that was done this year at United. Thank you so much for your prayers, support, and encouragement; United Youth couldn't have happened without it. All Youth of Taylor and surrounding counties are invited to United. If you have any questions, or know a church that would like to attend, please contact our church office!

United Youth is being held at Cornerstone Community Church at the Taylor County Middle School every Wednesday from 5:30p - 7:30p.
Steps is a gospel-centered recovery resource that takes people to the root of sin and suffering and leads them to embrace the freedom found only in Christ's redemption. Our Steps group meets every Sunday from 3:00PM - 5:00PM. Contact
Tony Cruce
for more information.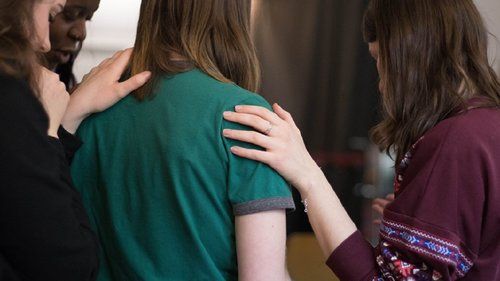 We invite everyone at Calvary, our sister churches in the Taylor Baptist Association & across the community to join us for a time of extended, uplifting prayer for our community. We now have Prayer Meeting on Sunday Mornings from 7:00AM - 8:00AM. Contact
Ben Kimmell
for more information.
Mullet School of Ministry
Join us for MSM as we provide a basic, yet high-quality theological education and ongoing ministry support to local church leaders and those who aspire to those offices and roles, in Perry and Taylor County. Our current course is NT101, an Introduction to the New Testament. If you would like to learn more about Mullet School, please tap the button below.
Today: Connie Gibson & Melissa Moody
Next Sunday: Logan & Carl Padgett
Today: Jessica Ricketson
Next Sunday: Jenni Wigglesworth, Sarah Sapp, & Avery Morgan
Today: Kim Carlton & Abbey Tharpe
Next Sunday: Leah Kellerman