We are glad you're joining us for our service today. If you are new, or would like to connect with us, click on the button below to fill out an online connection card!
Class of 2022, we are so excited for the opportunity to celebrate all that God has done in your life up until now. We want to spend some time celebrating, encouraging, as well as commissioning you as you start this new season of life. We will be recognizing the Class of 2022 during our Worship Service on Sunday, May 22nd.

If you have a senior that is interested in being recognized, please contact us!
Join us for our monthly Senior Adult Dinner this Thursday at Fusion Buffet! All senior adults are invited to attend. If you are in need of transportation, please contact our church office.

WHEN: Thursday, May 26 | 5:30p
WHERE: Fusion Buffet
Men! Join us for a small group book study for men on "It's Good To Be A Man". This is a project for Bible-believing men seeking a positive and practical doctrine of manhood. Our mission is to develop the knowledge, virtues and skills necessary to rightly order ourselves and our world as men.

WHEN: Every Wednesday | 6p
WHERE: Calvary Baptist Church, Portable P1
Go off-road for a Monumental adventure through the colorful canyons and sunbaked trails of the southwest. By exploring God's awesomeness, kids form a rock-solid faith for the road ahead.

Vacation Bible School at Calvary is free to all boys and girls ages 4 years old through 5th grade level as of September 1, 2021. This will be an adventure your kids won't want to miss, so mark June 5 - 9, 5:30p - 8:00p on your calendars today! Registration will close on May 15th at 11:59p, so fill out the online registration forms soon to secure your spot!
Truth Project Discipleship
This is a 13 week series about the relevance and importance of living the Biblical worldview in daily life

WHEN: Every Sunday | 3p-5p
WHERE: Calvary Baptist Church, Portable P1
AWANA - Fall '22 Semester
Our AWANA program has ended for the Spring Semester! AWANA will resume in August.



United Youth - Fall '22 Semester
United Spring Spring '22 has ended! We will resume in August at Cornerstone! We have had hundreds of students attend United to build relationships, worship, and most importantly, hear the Gospel. All glory be to God alone for the work that was done this year at United. Thank you so much for your prayers, support, and encouragement; United Youth couldn't have happened without it. All Youth of Taylor and surrounding counties are invited to attend United. If you have any questions, or know a church that would like to attend, please contact our church office!
If are you currently - or are considering - playing an instrument or singing, you are invited to join us for our practice! We would love to have you join our Worship Team. We hold practices at 6:30p on the 2nd & 4th Mondays each month.

WHEN: 2nd & 4th Mondays each month // 6:30p
WHERE: Calvary Baptist Church // Worship Center
We would love to have you serve on our Media Team! We are looking for people that are interested in serving in our tech booth for Sunday Services. We are currently looking to put people in the following positions:

Sound Tech
ProPresenter Tech
Lighting Tech
Video/Camera Tech

If you are interested in joining our team, please contact us at media@calvarybcp.com
Steps is a gospel-centered recovery resource that takes people to the root of sin and suffering and leads them to embrace the freedom found only in Christ's redemption. Our Steps group meets every Sunday from 3:00PM - 5:00PM. Contact
Tony Cruce
for more information.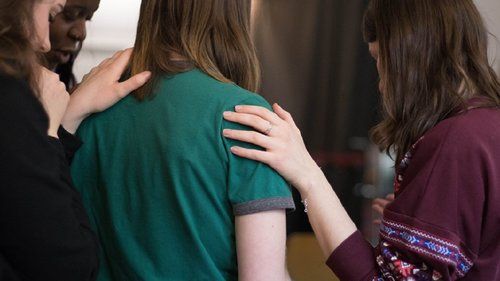 We invite everyone at Calvary, our sister churches in the Taylor Baptist Association & across the community to join us for a time of extended, uplifting prayer for our community. We now have Prayer Meeting on Sunday Mornings from 7:00AM - 8:00AM. Contact
Ben Kimmell
for more information.
Mullet School of Ministry
Join us for MSM as we provide a basic, yet high-quality theological education and ongoing ministry support to local church leaders and those who aspire to those offices and roles, in Perry and Taylor County. Our current course is NT101, an Introduction to the New Testament. If you would like to learn more about Mullet School, please tap the button below.
Today: Pete Crews & Charlene Fowler
Next Sunday: Jessica Ricketson, Leigh Ann Grubbs, & Kylee Padgett
Today: Laura Young
Next Sunday: Volunteers Needed
Today: Marti Lee
Next Sunday: Phyllis McCall & Kellie Gober